Practical Ultrasound - Intensive Short Course
Practical Ultrasound - Intensive Short Course
Do you know what you are seeing when you are scanning? Can you follow blood vessels as a roadmap to the abdomen? Can you find the adrenal glands and pancreas? Do you have enough time to practise your scanning on normal dogs as well as clinical patients?
If you are time poor but need an intensive boost to help you gain more confidence with your imaging, here's your chance to make it happen!
Let Dr Karon Hoffmann and Dr Annie Rose work with you in an intensive, immersive practical 4-day course on Diagnostic Ultrasound, where you will spend a dedicated amount of time learning how to perform scans from the right foundations and improve your technique under the expert guidance of these instructors.
Karon is known Australia-wide as the 'go to' person for ultrasound as well as being a European Boarded Specialist in Veterinary Diagnostic Imaging. She will be joined by Annie Rose, formerly from UQ and currently at the University of Melbourne, who is another passionate teacher and highly skilled trainer. Together, they will instruct and give you personal and immediate feedback on your scanning, and teach you tips and tricks that will make a huge difference when you get back to your practice.
What's even better is that they both want to help you develop that sense of achievement you'll get when you climb to that next level of skill. Those confounding cases won't seem so scary and you'll be excited at the prospect of being able to perform ultrasound on all your cases. Better still, you'll discover that you want to learn more, practise more and get even better as your confidence builds.
---
The 4-day course will be held on Monday, Tuesday, Thursday and Friday.
On Wednesday you have the option to attend at no extra charge a full day seminar presented by Paul Canfield on the topic of Cytology. This 1-day seminar will complement the ultrasound intensive course. It is an optional day to attend at no additional charge to Sonology course registrants.
*Includes 6 CPD Points for optional Seminar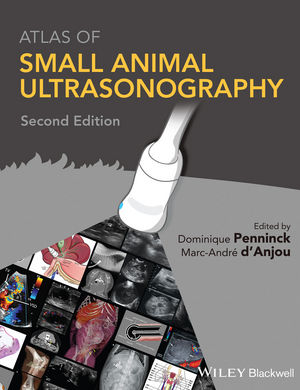 Register in this Intensive Short Course to receive a copy of the Atlas of Small Animal Ultrasonography, Second Edition.
Atlas of Small Animal Ultrasonography, Second Edition is a comprehensive reference for ultrasound techniques and findings in small animal practice, with more than 2000 high-quality sonograms and illustrations of normal structures and disorders.
PROGRAM
Limited places remaining
Monday 16 - Friday 20 October 2017
Workshop/s
Tuesday 17 and
Friday 20 October 2017
(Optional Seminar
Wednesday 18 October)
Veterinary Science Conference Centre
Australia
Course fees
| | |
| --- | --- |
| Member type | Full rate |
| Member* | $4400 |
| Non-member / eMember | $4840 |
*Member includes: Practice, Professional, Recent Grad, Part-time and Academic members.
Sponsor/s
Further details
Have a question? Your answer could be on our frequently asked questions page. If you cannot find an answer for your question, please email us or call us on +61 2 9351 7979.